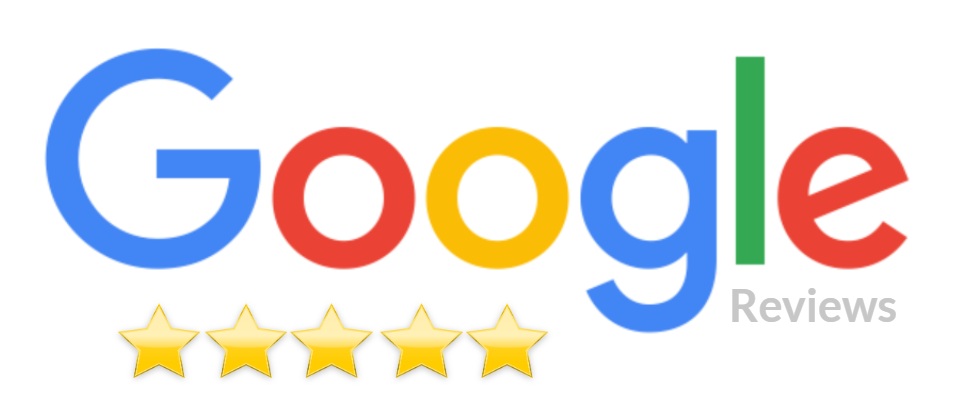 How Can Online Reviews Benefit Your Business?
Increase Click Through Rate
Click through rate (CTR) is the ratio of users who saw your ad or listing on the search results page to the number of users who clicked through to your website. CTR is important as there's little point in ranking at the top of Google if no one is clicking through to your site.
Cultivating a positive online reputation for your brand through online reviews can dramatically increase the click through rate of a website, and subsequently increase site traffic. This is because Google displays the star rating and number of reviews a business has in the local pack section of the search results (see image below).
The addition of the star rating to the search engine results allows users to immediately compare your business with your top competitors based on how many online reviews your business has and the overall star rating. This means that a huge number of users will have decided whether or not they trust your business before ever clicking through to your website. In fact, according to a recent study, 56% of users select a business in the local pack if it has a high star rating displayed.
Skyrocket Sales
Having a number of positive online reviews will also skyrocket your sales. Not only will an increased click through rate boost the traffic to your site, having a high star rating on Google reviews for your business can also increase the conversion rate of a website (conversion rate is the ratio of how many site visitors your website gets to how many people convert – whether that means calling your business, filling out a contact form, etc.). This is because 72% of consumers will only take action after reading positive reviews about the business.
This means that even if you can convince your potential customer that they need your product or service, if they decide that they can't trust your business based on its online reviews, they will simply purchase that product from a competitor with a higher star rating or more reviews.
Conversely, if your website conversion rate is lacking due to a high percentage of fence sitting customers, displaying a 5-star rating from 50 online reviews demonstrates how your product has benefited others. This allows users to visualise how your product could benefit them like it has so many others, and will increase your conversion rate.
Protect Your Brand
Another, often overlooked, benefit of building your brand reputation through online reviews is safeguarding your business for the future. Although having no online reviews may seem harmless, as there are neither good, nor bad reviews about your business, it leaves your business reputation open to the first person who decides to leave a review.
For example, if you only have one review with a one star rating, then your business will have a one star rating overall. Thinking back to the local pack image above, how likely would you be to click on a business with a one star rating? And considering that consumers are 21% more likely to leave a review after a negative experience than a positive one, this is a reality that many businesses that currently have no online reviews will soon be facing.
It is likely that at some point in time your business will receive an online review from a disgruntled customer that expected the world for nothing, or who was simply having a bad day. However, if your business has 50 positive reviews and you are regularly gaining new positive reviews from satisfied customers, you will have safeguarded your business from letting that one negative review define your business's online reputation. Plus, it's much easier to build online reviews now than to retroactively repair the reputation of your business after receiving negative reviews.
Build Customer Relationships
Google's online reviews feature also creates a platform for communication between your business and your customers, allowing you to build customer relationships. Building relationships by providing a personalised response to each customer review can turn a happy customer into an advocate for your business.
Additionally, responding to negative reviews and offering to fix the problem (eg. food was cold – offer a free food voucher) can not only turn an unsatisfied customer into a happy one, it also shows potential customers who are reading the reviews that you take customer satisfaction seriously.
And since 85% of consumers look for negative reviews in order to make an informed decision, if consumers can see that the issue has been resolved they will be much more likely to trust your business than if the negative review had never been addressed.
Improve Your Service
Finally, online reviews can help you improve the service you provide and overall customer satisfaction. If a customer has a negative experience with your business, they are likely to tell their family and friends. Before online reviews were popular, most business owners would have no idea that a bad experience had occurred.
However, now that consumers are able to express their frustrations with a business online, business owners can use the feedback of their customers to improve the customer experience. Not only does a negative online review give you a chance to turn an unhappy customer into a happy one, it also provides you with information on how to improve your service.
For example, if a customer of a fast food restaurant posts a negative review stating that the cashier had no idea what was actually on the burgers that they sell, the business owner could use this as an opportunity to provide further training for front of house staff to improve the customer experience.
Increase Search Engine Rankings
Finally, regularly obtaining new positive online reviews for your business can increase search engine rankings for your website. In fact, according to Moz's local search ranking factors, online reviews account for 13% of the ranking signals used to determine which businesses are displayed in the local pack, and 7% of the ranking signals used to determine organic rankings.
This means that not only will potential customers use online reviews to decide whether or not to trust your business, search engines will also use data from the reviews to help determine where your website will rank on the search engine results page.
In summary, regularly gaining new positive online reviews will not only increase the search engine rankings and click through rate of your website, it will also increase the return on investment from your marketing spend, both online and offline, skyrocket your sales, and essentially make you more money.